Installation
This add-on is available on the Atlassian Marketplace and can be installed as usual through the Universal Plugin Manager. If you have already installed the plugin, you can skip the rest of this article. If not, please follow the steps below or refer to Atlassian's official guide on installing add-ons.
To install the add-on, you will need administrative rights. If you are not a Confluence admin, please contact one of your Confluence admins and share this guide with them.
Step 1 – Go to the Universal Plugin Manager
The Universal Plugin Manager (UPM) allows you to manage add-ons and extensions. To access it, navigate to any Confluence page. Then, click on the Settings icon in the top right corner of the page's navigation panel. From the dropdown menu, select Manage apps. This will take you directly to the UPM management page.

Step 2 – Locate and Install the Add-on
Once you are on the UPM management page, navigate to the Find new Apps page. You can find this page in the left-side navigation, just above the currently selected page. Upon opening the page, locate the search bar. Type mailto.wiki – Email for Confluence in the search bar. This should display a single result with the exact same title. Click on Free Trial to initiate the installation process.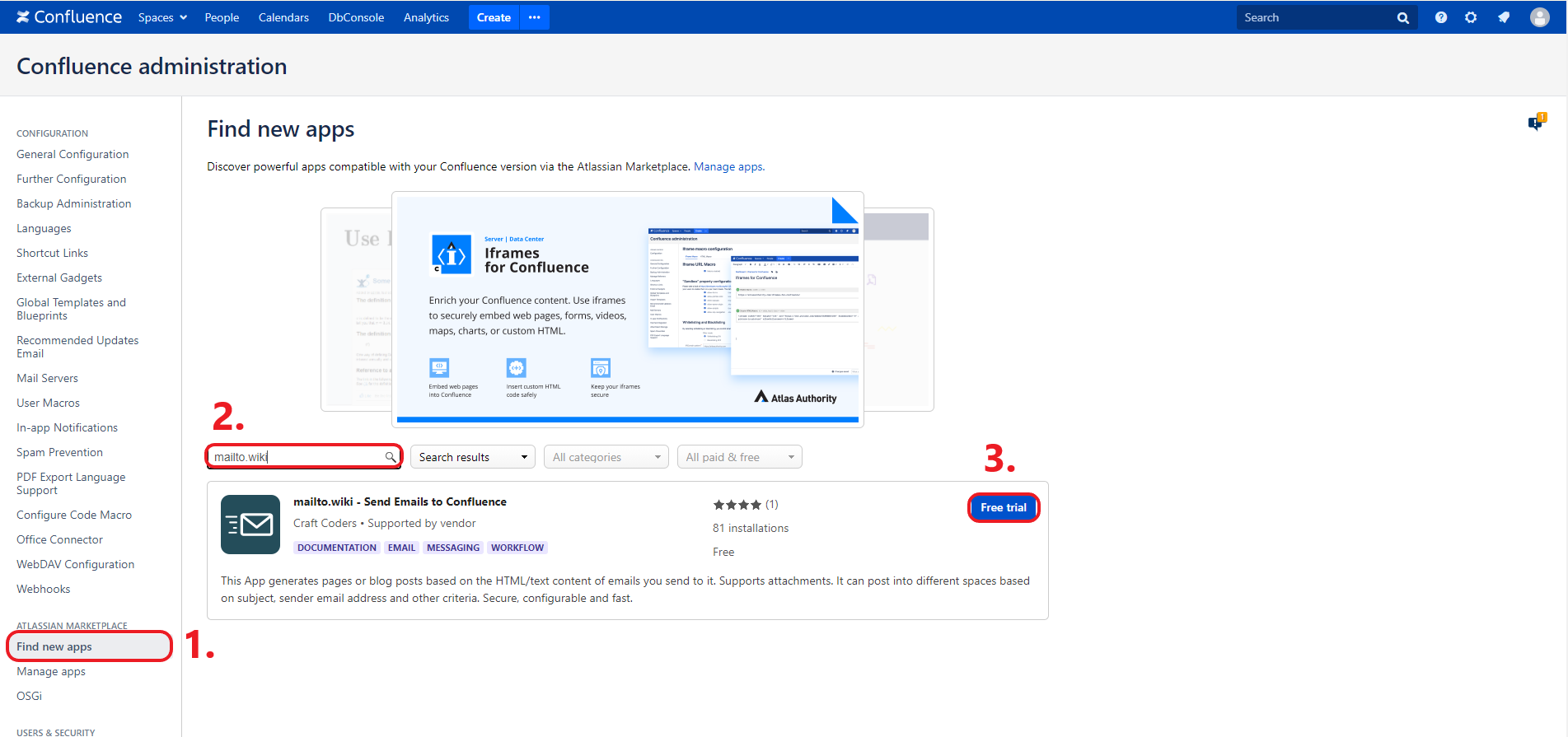 If you can't find the add-on, double-check your search query and ensure that you have opened the Universal Plugin Manager (UPM) from Confluence and haven't accidentally opened the UPM for Jira or any other Atlassian app.
Great job! You have successfully installed the add-on. However, before you can use it, you still need to configure it. We will cover this in the Getting Started section.
Common Problems
While trying to install mailto.wiki – Email for Confluence, you may encounter the following issues:
You cannot see or click on "Find new apps" – This typically indicates that you are not logged in with a Confluence admin user. Administrative rights are required to install add-ons.
You cannot find the add-on in the plugin manager – This usually means that you have accidentally opened the plugin manager for Jira or another Atlassian app instead of Confluence.
Atlassian Server Hiccup – Sometimes, during the installation process, you may encounter a message referring to a hiccup. In such cases, retrying to install the add-on at a later time, such as an hour later, often resolves the issue.
If you are experiencing installation problems that you cannot resolve on your own, please open a support ticket. You can do this through our Help Desk or by sending an email to support@mailto.wiki.