{{CODE_1}}
While Atlassian's Jira supports creating content via email out of the box, Confluence does not. However there are plugins available that allow you to generate pages and blog posts in Confluence Cloud & Server from emails. This blog article aims to give you an overview of the available add-ons and Atlassian's own efforts to tackle this issue.
Disclaimer: We are the developers of mailto.wiki – Email for Confluence
Build in Support
Two official tickets track the progress of Atlassian's own efforts to add support for emails, one for Confluence Cloud and one for Confluence Server. They are both from 2004.
It seems that 16 years later, in July 2020, Atlassian suddenly decided to start working on a solution for Confluence Server. However at the time of writing (19/11/2020) very little is known about the details and when this feature will be released. Since Atlassian just decided to end the sale of new Confluence Server licenses in February 2021 and to completely end support for Confluence Server in 2024, I think we can expect very little coming from this. If native support comes at all it will probably be limited to creating pages in personal spaces . As an Atlassian employee stated in one comment: "… allow you to create pages in your personal space " – Matthew 14/Jul/2020 4:43 AM.
The ticket for Confluence Cloud is still in the Gathering Interest state. As it has been for the last 16 years. So we don't expect any news here soon.
Confluence Cloud
If you are using Confluence Cloud and want to create pages or blog posts from an email the only way to go is using the mailto.wiki – Email for Confluence plugin. It is developed and maintained by us, Craft Coders, a small software development company from Germany. As of today (19/11/2020), there are no other plugins for this use case available on the Atlassian Marketplace.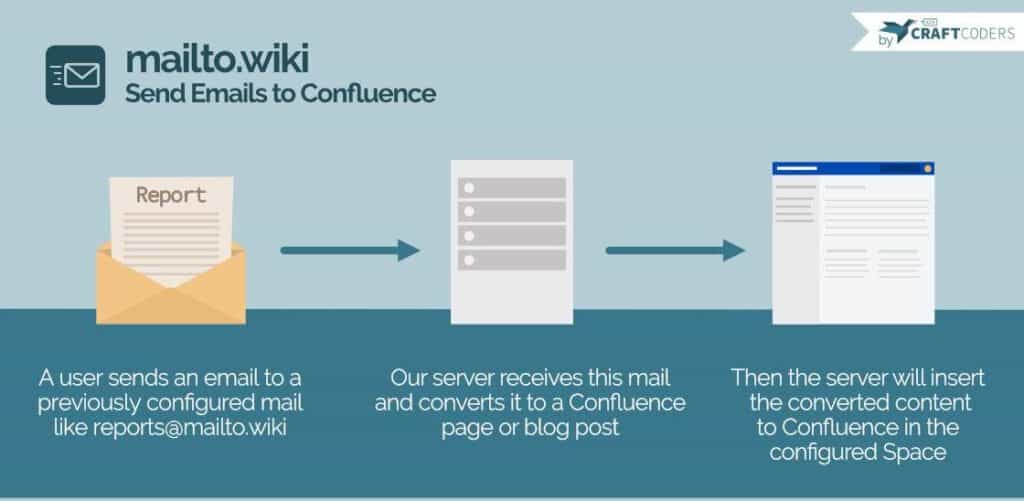 The add-on supports generating pages and blog posts from emails. It works by allowing you to register one or multiple email addresses ending in @mailto.wiki. To which you can send your emails. Our mail servers then process your emails and posts them as page or blog post into your Confluence Cloud instance.
It can handle attachments and html mails. It is easy to configure and gives very high priority to security. We do Spam Filtering, Virus Screening, HTML filtering and give you the option to whitelist sender email addresses.
The plugin also gives you the possibility to route emails to different spaces and pages based on the email subject, sender address and receiving address. Just like you can define rules for incoming emails in your email program like Outlook. It also comes with a lot of other features, for example you can customize titles, add labels to pages/blog posts and choose between different display settings.
Confluence Server 4.0 and Earlier
In the unlikely event that your Confluence corresponds to version 4 or less, you have very limited build-in support for processing emails. You can add a mail account for a certain space which then will pull in the complete mailbox. BUT BE CAREFUL: Confluence will DELETE all emails from a mailbox as it reads it. Do not point Confluence to an account unless you want it to remove all the mail you have stored there. Since it's the only way to send emails for this version, read the documentation carefully or update Confluence to a newer version to get better support.
Confluence Server 5+
Confluence Server 5.0 is the only version in which it is not possible to Email for Confluence. The only possibility is to upgrade to another version (minimum of 6.5).
Confluence Server 6.5+
For Confluence server with version 6.5 or higher, there is currently only one way to send emails. You can install the Send Email to Page Plugin from Artemis Software.
The large German retail company dm-drogerie markt had its own Plugin for some time because in an analysis they found the Send Emails to Page Plugin too unsafe regarding IT-Security (Chapter 3.5, it's written in German). After a while, they took their own plugin off the market. The code is published OpenSource and can be found here.
Disclaimer: one of our developers wrote the paper mentioned and was involved with the development of the DM app. Our cloud app reuses some of the open-sourced code in accordance with the MIT license.
Confluence Server

7.4 + / Data Center 7.4+
Our add-on mailto.wiki – Email for Confluence is also available for Confluence Server & Confluence Data Center. We take part in the bug bounty program and currently offer more features and lower prices than our competitor Send Email to Page.
Conclusion
In summary, Atlassian will not provide the ability to send emails to Confluence out-of-the box in the foreseeable future. This is currently only possible via plugins. The mailto.wiki – Email for Confluence plugin is available for Cloud, Server, and Data Center.
Links
{{CODE_2}}